The Quartermaster Award is the highest rank in Sea Scouting and is awarded to Scouts who complete a number of requirements in addition to showing dedication and leadership. The Quartermaster award was first awarded around 1930, and the requirements were reworked in 1938, and there have been several organizational changes to the Sea Scouts within the BSA, but the Quartermaster Award is still the highest achievement a Sea Scout can earn.
The Award consists of a ship's wheel with a compass inscribed and a an anchor with the First Class emblem on it. The medal hangs from a blue ribbon, the modern award has a silver bar on the top of the award, while older versions do not. Originally the pendant was made in Sterling Silver, but current medals are made with lesser metals. There are also a cloth patch insignia and a square knot insignia for the Quartermaster Award.
The symbology of the Quartermaster Award symbolism is described by the Boy Scouts as:
The blue stands for the loyalty to country; the compass suggests the importance of a carefully chosen direction in life; the wheel reminds Sea Scouts that they are the guides of their own future; the anchor reminds the Sea Scout that a truly worthy life must be anchored in duty to God.
– Sea Scout Manual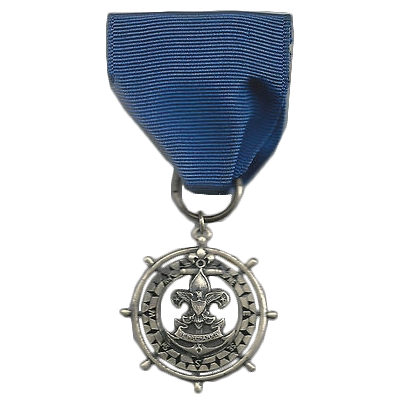 If you have a Sea Scout Quartermaster award, please Contact Us for more information.