The Explorer program was adopted as part of the Boy Scout program in 1935 as part of the effort to have activities that could keep older scouts engaged and interested, this was an expansion of the same effort that led to Sea Scouting, where older boys of high school age were leaving Scouts. To combat this problem the Sea Scouts gave boys a sailing / naval experience, Explorers served as advanced camping, pioneering, and high adventure for the older boys. Initially, Explorers worked towards Eagle like other Scouts, but eventually the Ranger Award was developed as the highest rank attainable for Explorers. The Ranger Award was only available for Scouts to earn from 1944 – 1949 and Scouts who were already progressing had two more years to finish the award in 1950 & 1951. In total, less than 3,000 Ranger Awards were earned, making this a rare and desirable collectible.
In 1998, the BSA brought back the Ranger Award as part of the Venturing program, but the new award is not considered to be the highest achievement that one can earn, as that is the Silver Award. The current Ranger Award is clearly inspired by the original in terms of design, but the two can't be confused for each other.
The Explorer program had developed an advancement program from 1944-1949 that consisted of advancement from Apprentice, Woodsman, Frontiersman, and finally Ranger which was the highest rank for this period. These ranks all exist as cloth patches with a forest green background and gold embroidered border that reads "Explorer Scout". Each rank above Apprentice also had a white embroidered emblem in the central field, Woodsman has a Tree, Frontiersman has a Teepee, Ranger has a Powderhorn. The Ranger medal consists of a white ribbon with green on either side holding a silver medallion of a compass rose with a powderhorn, and green enamel.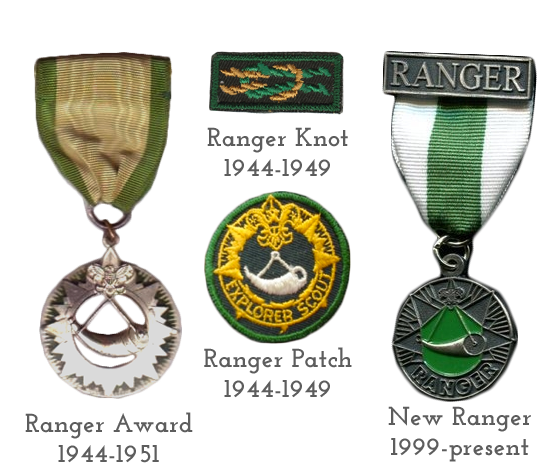 If you have an Explorer Ranger Award, please Contact Us for more information.