There are three awards given at different levels of Scouting as recognition for extraordinary service, known as the Silver Awards. These awards are the Silver Beaver at the Council Level, The Silver Antelope at the Region Level, and the Silver Buffalo at the National Level. As you advance from Silver Beaver to Silver Antelope to Silver Buffalo, the awards get rarer and rarer to find because fewer and fewer are given.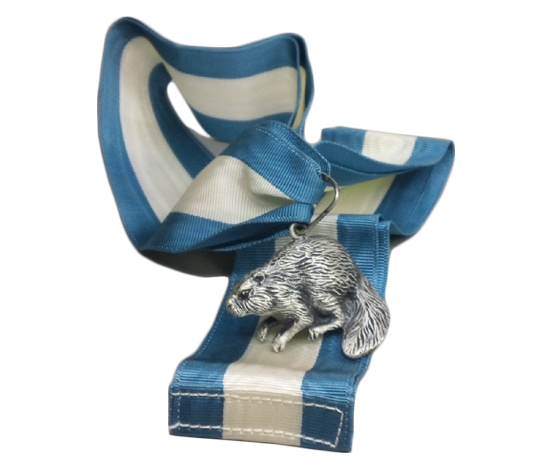 Boy Scout Silver Beaver Award
The Silver Beaver is awarded at the Council level to a volunteer adult Scout who has provided service to the Council far above what would be required of his or her duties. There have been many versions of the award over time and some collectors try to collect every version of the Silver Beaver that has been issued. There are six main types outlined below, note that the dates are not exact there is quite a bit of overlap between different types, this is a general idea because no one knows exact dates for each type:
Type 1 (1931-1933) – Easily identified because it is the only Silver Beaver on a pocket ribbon, all subsequent Types have the Beaver Pendant on a neck ribbon.
Type 2 (1933-1939) – Found on a neck ribbon with triangular attachment ring, usually has mark "M.A.C. NY STERLING" or "M.A.Co. STERLING" but not all are marked.
Type 3 (1940-1950) – Triangular attachment ring, no maker's mark, and the bottom is ground down flat
Type 4 (1950-1960) – Triangular attachment ring, can be marked "r STERLING", "STERLING", or no mark
Type 5 (1960-1971) – Round attachment ring, marked "STER" in a box
Type 6 (1971-1980) – Much smaller beaver than any previous type, can be marked "STER" in a box, or "STER", neck ribbon has snaps
Type 7 (1981-2000) – Rhodium beaver, snap neck ribbon, back to larger size beaver, two round attachment rings
Type 8 & 9 (2000-present) – Most recent designs
It can be difficult to properly identify each type without measuring the beaver, ribbon, and other features closely as well as comparing with known examples. It's always helpful if the award has the original box or case, and especially if there is any documentation to confirm its age.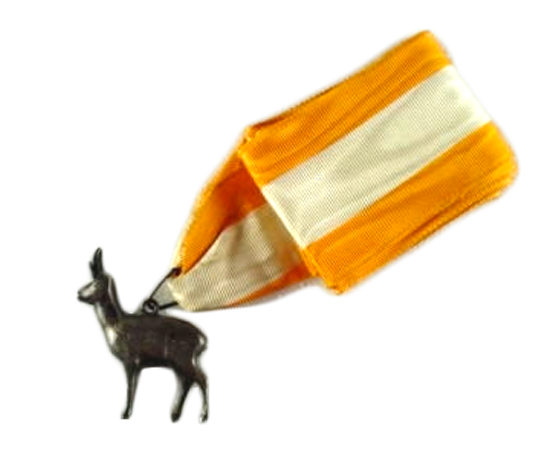 Boy Scout Silver Antelope Award
The Silver Antelope is awarded for similar reasons to the Silver Beaver, but is awarded for service at the Regional level of Scouting. There are many fewer Regional awards given compared to Council Awards so the Silver Antelope is much harder to find than the Silver Beaver. The Silver Antelope is a small Silver pendant of an antelope standing, it has small antlers / horns and it hangs from a gold, white, gold neck ribbon. Since 1980, the pendant has been made of rhodium instead of silver.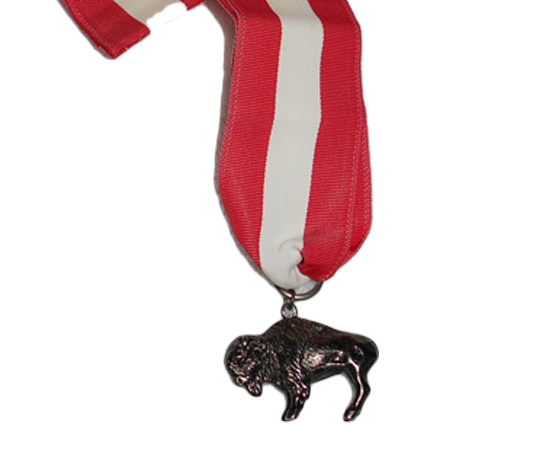 Boy Scout Silver Buffalo Award
The Silver Buffalo is the highest national honor that can be awarded by the Boy Scouts. It was created in 1925 and the first award was given to Baden-Powell, the founder of Scouting. It does not have to be given to a Scout necessarily, but is awarded to those who have given noteworthy service to youth. The Silver Buffalo is a rare award that has been given to Presidents and other influential and famous people as well as Scouts who are extremely dedicated to serving the Scouting Mission on a National level. Boy Scout records indicate that as of 2012, 731 people have been awarded the Silver Buffalo, with an average of about 8 people per year receiving the award. There is no requirement however that the award be given and there have been 8 years where none were earned, the most Silver Buffalos awarded in one year was 22 in 1988.
The Silver Buffalo is identified by a Silver Buffalo Pendant hanging from a red, white, and red neck ribbon. There have been three major types over time, Type 1 (1925-1954) has a large Silver Buffalo Pendant, Type 2 (1955-1979) has a smaller Silver Buffalo, and Type 3 (1980-present) has a rhodium pendant instead of real silver. These types can be difficult to tell apart without known types to compare to, so feel free to contact us with any questions.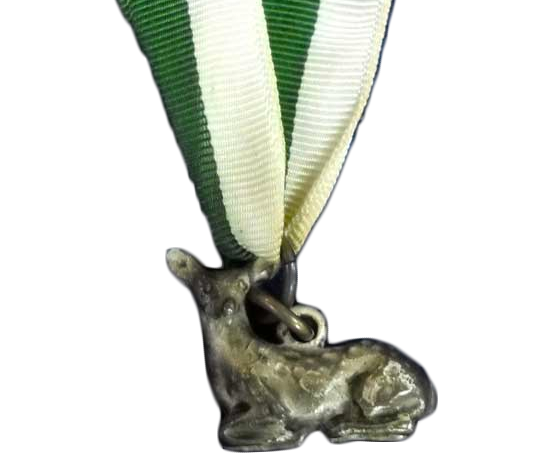 Boy Scout Silver Fawn Award
The Silver Fawn is an interesting award because a lot of people don't even know it exists! Until 1974, the Silver Beaver was awarded to male Scout leaders only, so from 1971 to 1974, female leaders could earn the Silver Fawn. The recognization and award mean the same thing, that the person has demonstrated exceptional service at the Council level. In 1974, BSA decided that women could be awarded the Silver Beaver and the Silver Fawn was discontinued. As a result, fewer than 2,500 Silver Fawns were ever awarded, making it one of the rarer awards you can encounter. The Silver Fawn consists of a silver fawn pendant that hangs from a green and white neck ribbon.
If you have a Silver Beaver, Antelope, Buffalo, or Fawn Award, please Contact Us for more information.